Secure Your Fuel Tank Against Fuel Theft With Our 6 Easy Steps
Fuel is a valuable commodity and when stored locally, it can be an enticing target for thieves. Fuels such as red diesel, kerosene, DERV and their storage tanks can be expensive to replace and fuel theft can leave you not only out of pocket but also cold this winter. Especially if your heating oil is the target, as you'll have no way to heat your home.
With the dark nights descending on us, this opens up an opportunity for thieves due to longer extended periods of darkness which make it more able to successfully steal fuel. Therefore, it's hugely important to implement security measures to protect your bloodline. Follow our 6 easy steps and you can be rest assured your fuel's safe all year round.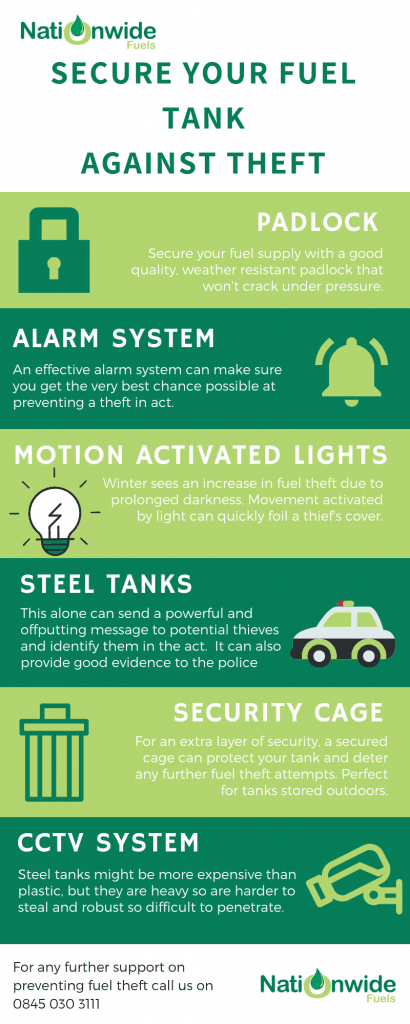 Unquestionably, this infographic signifies a simplified overview of what you need to do to increase your fuel tank's security. When applying any of these measures, you need to consider the environmental and legislative implications of every one of your security choices along the way.
Luckily, Nationwide Fuels is here to help with any and all of your fuel storage needs. And even better, once you've got it all in place, we can supply you with your fuel and oil supply too, from red diesel, kerosene, DERV, heating oil, lubricants and more. Call us today on 0845 0303 111.